An anthology by a passionate teenager conveying a wide range of experiences while sailing through the ebb and flow of adolescence. The poems included in the collection underline the pain, regret, setbacks and accomplishments of an amateur poet whose heart yearns for childhood memoirs while embarking on a crusade for discovering the true meaning of success and happiness.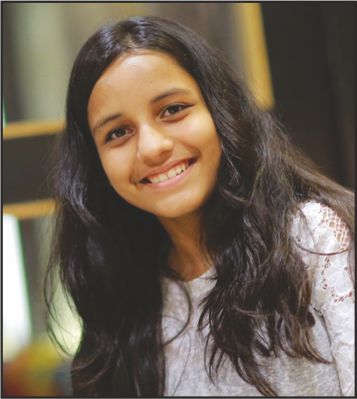 About the Author:
A 16-year-old student of The Cathedral and John Cannon School, Mumbai, Nehal Sanghai is a rare combination of financial acumen and creative expression. She is passionate about poetry which provides her a cathartic outlet for all her emotions. Change excites her immensely as it allows her to venture out of the comfort zone and achieve new milestones. From cooking to basketball, from gathering knowledge about latest technology to capital market and trading analysis – Nehal's focus has always been to attain all-round development. She considers ethics and strong value system to be her assets and believes in the motto of 'continuous learning, sharing and improving'.
(nehal.sanghai@gmail.com)
"Nehal's precocious talent is evident in her choice of words to convey feelings at such a young age. A bright future beckons, for sure!"
– Dr K R Balakrishnan, World's leading Heart Transplant Surgeon
"The anthology is indeed a teenager's journey through the ebb and flow of life. A beautiful blend of emotions and creativity. It is a wonderful experience to read the poems..."
– Vishakha Mulye, Executive Director, ICICI Bank Limited.
"I could relate to every word as I have two young daughters. Loved it completely…May God keep you grounded in gratitude and lift you to newer heights."
– Dolly Jain, World record holder celebrity Drape Artist
"The poems have captured Nehal's deep thoughts and
feelings about life well. The book makes a good read as the poems are not only written in simple, easy to understand language, but are thought-provoking at the same time."
– R S Goenka, Co-Founder, Emami Group
"Through a play of words, Nehal imaginatively expresses what every teenager experiences during the formative years of adolescence. The poems are captivating, relatable, and a work of true genius!"
– Shashwat Goenka, Vice Chairman, CESC Limited, Alumni, The Wharton School of Business
"Nehal has a nice way to express deep meaning through simple expressions and daily experiences. Her articulation around human virtues of humility, kindness, optimism, hustle and being genuine are particularly impressive"
– Abhay Pandey, Venture Capitalist, General Partner, A91 Partners
An anthology by a passionate teenager conveying a wide range of experiences while sailing through the ebb and flow of adolescence. The poems included in the collection underline the pain, regret, setbacks and accomplishments of an amateur poet whose heart yearns for childhood memoirs while embarking on a crusade for discovering the true meaning of success and happiness. About the Author:A 16-year-old student of The Cathedral and John Cannon School, Mumbai, Nehal Sanghai is a rare combination of financial acumen and creative expression. She is passionate about poetry which provides her a cathartic outlet for all her emotions. Change excites her immensely as it allows her to venture out of the comfort zone and achieve new milestones. From cooking to basketball, from gathering knowledge about latest technology to capital market and trading analysis – Nehal's focus has always been to attain all-round development. She considers ethics and strong value system to be her assets and believes in the motto of 'continuous learning, sharing and improving'.(nehal.sanghai@gmail.com)"Nehal's precocious talent is evident in her choice of words to convey feelings at such a young age. A bright future beckons, for sure!" – Dr K R Balakrishnan, World's leading Heart Transplant Surgeon"The anthology is indeed a teenager's journey through the ebb and flow of life. A beautiful blend of emotions and creativity. It is a wonderful experience to read the poems..."– Vishakha Mulye, Executive Director, ICICI Bank Limited."I could relate to every word as I have two young daughters. Loved it completely…May God keep you grounded in gratitude and lift you to newer heights." – Dolly Jain, World record holder celebrity Drape Artist"The poems have captured Nehal's deep thoughts and feelings about life well. The book makes a good read as the poems are not only written in simple, easy to understand language, but are thought-provoking at the same time." – R S Goenka, Co-Founder, Emami Group "Through a play of words, Nehal imaginatively expresses what every teenager experiences during the formative years of adolescence. The poems are captivating, relatable, and a work of true genius!" – Shashwat Goenka, Vice Chairman, CESC Limited, Alumni, The Wharton School of Business"Nehal has a nice way to express deep meaning through simple expressions and daily experiences. Her articulation around human virtues of humility, kindness, optimism, hustle and being genuine are particularly impressive" – Abhay Pandey, Venture Capitalist, General Partner, A91 Partners
Be the first one to review this product